Metoidioplasty Surgery » Surgeons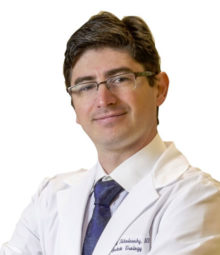 Dr. Dmitriy Nikolavsky
Reconstructive Urologist & Transgender Urology Expert
Dr. Dmitriy Nikolavsky is a Reconstructive Urologist and transgender urology expert who treats post-operative urinary complications for patients who have undergone Metoidioplasty with urethral construction.
Dr. Nikolavsky is an Assistant Professor of Urology and the Director of the Reconstructive Urology department at SUNY Upstate Medical University, in Syracuse NY. Dr. Nikolavsky is a Diplomat of the American Board of Urology, and a member of the American Urological Association (AUA), the Society of Genitourinary Reconstructive Surgeons (GURS), and the World Professional Association for Transgender Health (WPATH), among others.
Common urinary complications after Metoidioplasty include strictures, fistulas and abscesses. A Reconstructive Urologist diagnoses these conditions and provides a care plan to restore normal urinary function.
Dr. Nikolavsky regularly connects with gender reassignment surgeons as well as other Reconstructive Urologists to stay up-to-date on the best practices in transgender urology. Staff at the Reconstructive Urology department at SUNY have experience working with transgender men.
Do You Need a Reconstructive Urologist?
Dr. Nikolavsky does a free initial consultation by phone. Surgery dates can be secured with very short notice. Contact Dr. Nikolavsky by submitting the inquiry form on this page.